Meet Chef Robert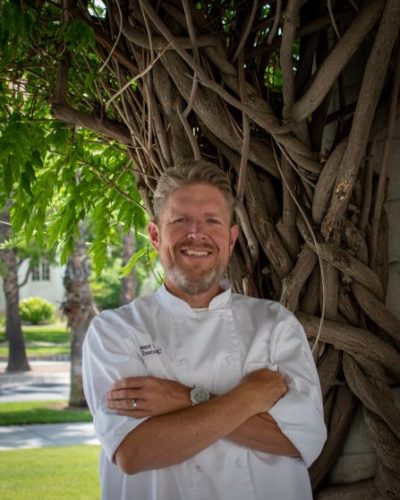 Chef Robert Sevaly's journey to the University of Redlands didn't start in a kitchen, but he has found a home there and his love of food and cooking is ever advancing as the road it took to get here. After graduating from high school, he worked several years as a deck hand on a long-range sport fishing boat out of Fisherman's Landing, San Diego.  During that time he lived a life not unlike something you would see on the Discovery Channel.  It was here that he first learned to use a knife, cleaning and filleting fish several hours every day. He returned home to Riverside in 1993, and obtained a position as a butcher at Uli's Grocery Store where he learned to breakdown all types of beef, pork and poultry.  The head butcher was so impressed with Robert's knife skills and passion that he encouraged him to investigate a career in the culinary arts.
In early 1994, Robert enrolled and began attending the Los Angeles Culinary Institute, in Hollywood.  The school was under the direction of Master Chef Raimund Hofmeister, CMC, AAC.  Robert received top honors there, including Dean's List-Honor Roll, was the first student from the Institute to ever receive a scholarship from the California Restaurant Writers Association, and also was the recipient of a Silver medal as the school's team leader in the Mission Valley College, Blind Box/Hot Food Competition. Upon graduation, Robert immediately obtained a position at the Hotel Del Coronado.  During this time, he held a wide variety of positions advancing from Head Line Cook to Head Butcher, and finally Chef Tornad.   Robert had the pleasure of being on the team that twice entertained President Clinton, as well many other dignitaries and celebrities.
In 1998, Robert was offered a position at the Hyatt Regency Hotel in La Jolla at their signature restaurant, Café Japengos.  This experience was quite different, and provided the chance to expand from classical cuisines to learn California and Asian specialties. While there, he was introduced to and began working at the Great News Cookware Store and Cooking School, assisting in the school and working with public, cook book authors and famous chefs. Soon after starting, he took the assistant position and was given his first opportunity to teach cooking classes to the public.
In April 1999, Robert took the position as Executive Sous Chef and Restaurant Chef for the Catamaran Resort in San Diego.  That next year, he was awarded the President's Cup 2000 for the Most Improved Department for all of the Evens Hotels Group. In the fall of 2004, Robert took time off and made a trip to Southeast Asia, where he spent three months traveling through Singapore, Malaysia, Thailand, Cambodia, and China and where he immersed himself in those cultures, cuisine and flavors.  That experience led to the next step of his culinary journey.
In 2005, Robert opened The Cooking Store and Cooking School in Riverside, where he started working closely with the city. He worked with Riverside GTV, and developed his own local television show, as the host of Flavor of Riverside.  That relationship has continued and Chef Robert is still filming episodes for the show. He published his first cook book titled "Good Cooking" and in 2014, Robert received the honor of Certified Executive Chef (CEC) from the American Culinary Federation (ACF). He was the past Certification Chairman for the ACF – Inland Empire Chapter and has also worked as a Chef Instructor for The Art Institute and Riverside City College.
In 2015, Chef Robert became Executive Chef of The Saguaro Hotel in Palm Springs, an opportunity to work with and train with Food Network Star, Iron Chef Jose Garces.  Most recently, Robert was the Executive Chef for Altavita Village in Riverside before accepting the position of Executive Chef at the University of Redlands this spring.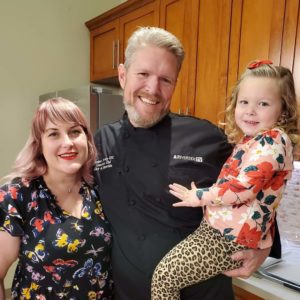 He states, "My passion for food comes from being able to explore new territories and theories while holding on to the traditions and ideals of the past.  Working as a chef, is history that is on the cutting edge, taking the best of both worlds and creating art that you can eat.  The service of giving all of myself, taking chances, providing a great meal, and then seeing that sparkle in the eyes of my customers and students after eating something I created. This is why I do what I do." He, his wife and 3 year old daughter have moved to Redlands to bring that passion to the University dining program.