Chef Robert's Jacked Up Street Tacos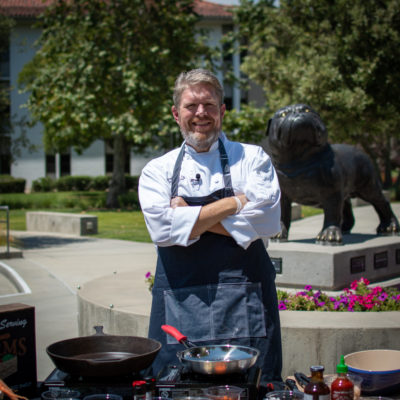 Chef Robert took some time out of his day to put this very detailed instructional video on how to make his special Jacked Up Street Tacos. Make sure to check out the recipe below, and don't forget you'll be able to try them this year at The Den!
Jacked Up Street Tacos
Robert M. Sevaly
1 can Green Jack Fruit (shredded)
1 cup Crimini Mushrooms (chopped)
1 cup Garbanzo Beans (drained)
1 Onion (chopped)
Olive Oil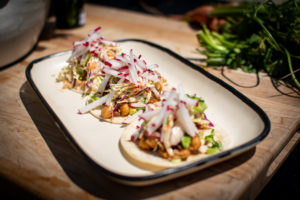 ½ cup BBQ Sauce
1-2 tablespoons Sriracha Sauce
2 cups Green Cabbage (shredded)
½ cup Red Cabbage (shredded)
½ cup Carrots (shredded)
½ cup Red Onions (shredded)
¼ cup Basil (sliced)
½ cup Vegan Mayo
¼ cup White Balsamic Vinegar
¼ cup Agave
1 tablespoon Dijon Mustard
4 Radish (julienned)
Salt and Pepper
Tortilla
1. Measure out the ingredients and complete the knife prep in the above list of ingredients.
2. In a hot sauté pan add a little olive oil and the onions.
3. Cook until translucent then add the jack fruit and mushrooms.
4. Once cooked add the garbanzo beans, BBQ sauce and Sriracha sauce.
5. Mix this all together in the pan until it looks like well combined and hot.
6. In a bowl mix the cabbage, carrot, onion and basil.
7. In a separate bowl make the dressing by mixing the vegan mayo, balsamic, agave, Dijon, salt and pepper
8. Mix the dressing and the cabbage to make the slaw.
9. Heat the tortillas and build the tacos by placing the jack fruit mix on top of the tortillas then the slaw and top with radish. Enjoy!