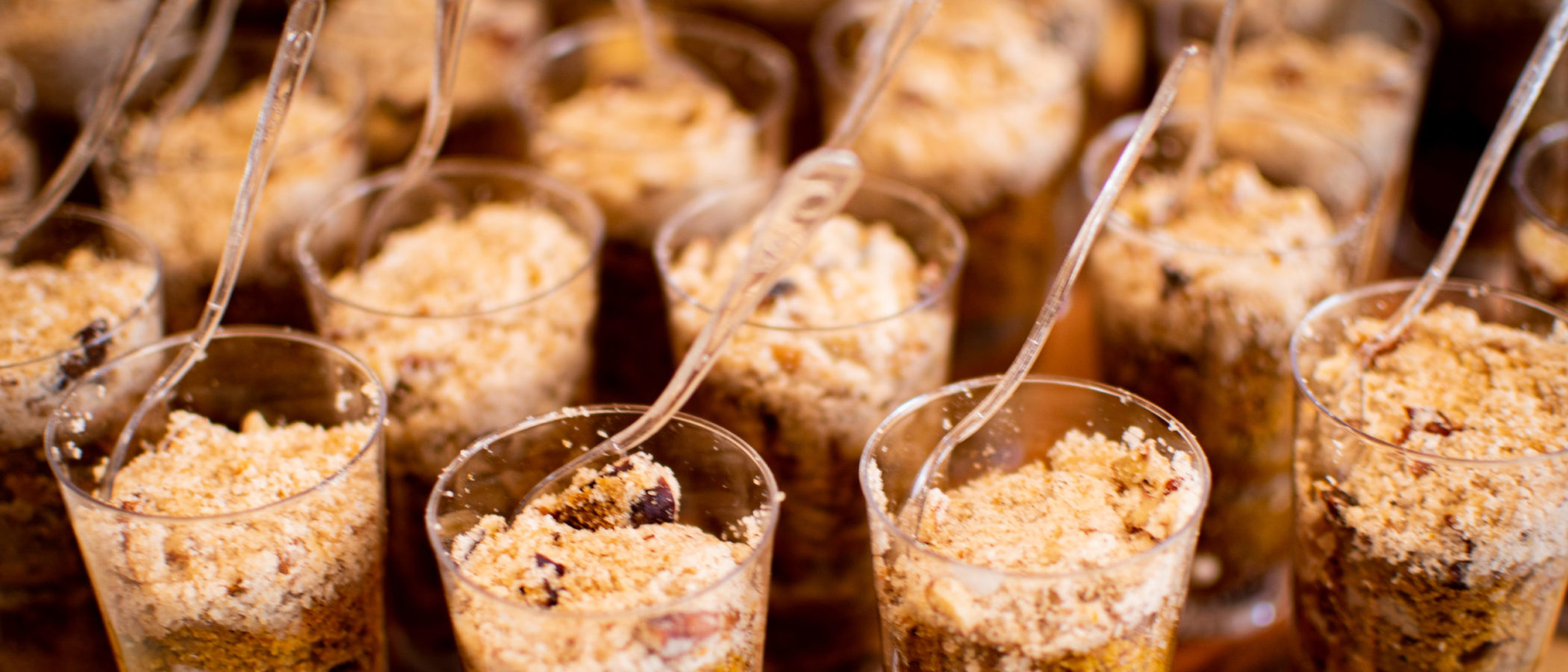 Catering Policy & Procedures
Thank you for choosing Harvest Table Catering at The University of Redlands for your upcoming event.
We are a full-service catering company, and we are dedicated to meeting the needs of our customers by creating memorable, signature events.  Whether it's a meeting break, tailgate party, wedding or evening reception, Harvest Table caters to you!
The following will help you to familiarize yourself with the catering ordering process and polices of Harvest Table Catering.  We look forward to delivering you an experience that will enrich and nourish your life and event!
What types of services do you offer?
We currently offer pick-up and drop off delivery on campus, as well as staffed events on-campus.
How can I start planning my event and menu?
We offer an elaborate selection of menu options for your event needs.  However, if you would like an item not on our printed or online menus, we would be happy to custom design a menu to accommodate your specific needs. We have experts on hand to help create the perfect cuisine just for you.
Our menus can be viewed at https://harvesttablecateringredlands.catertrax.com, or you can request copies to be sent via email.
Our team has created a variety of menus and services that fit your budget and event style.  If there is something you do not see on our standard menus we would be happy to create a custom menu for you.
Harvest table reserves the right to correct any menu pricing or descriptions at any time. Prices are subject to change without notice due to market conditions. Harvest Table will make substitutions when market conditions dictate or for any reason beyond our control. Any substitutions will be of comparable or greater value and if possible, you will be notified in advance.
What are some things I should consider before planning my event?
Theme or purpose for event
Special layout needs (reserved seating, head tables, linen needs, etc.)
China or compostable table service
Special diet considerations
Seasonal food availability
Program details, awards ceremonies, speakers, etc.
Floral, centerpiece and bar service needs
Weather (Is an alternative rain site required?)
VIP guests
Are there minimum requirements for orders?
To better serve all of our customers and operate in an efficient manner all orders have a 12-person order minimum. In the event that the menu for your event should fall below our stated order minimums, we will be glad to provide you with a quote to fit your special needs. Orders that come in below the minimum order requirements may incur an additional fee.
Can you help cater to those with dietary restrictions?
Yes we can! Our talented culinary team will be more than happy to prepare items suitable for any situation. Please let us know as early as possible if any of your guests have any dietary restrictions or are vegetarian, vegan, dairy-free, or nut-free and will require an alternate meal.
Note: For severe allergies with potentially anaphylactic reactions, we cannot guarantee full omission of the offending ingredient. This is due to the physical constraints of our own kitchen and that of our specialist suppliers where the ingredients may be present within the production environment.
How do I place my order?
Once you are ready to place an order, contact one of our event professionals at (909) 748.8959, or via email at redlandscatering@harvesttableculinary.com. In general, we ask that you provide us with at least seven days (7) of advance notice before your staffed event and three (3) days advanced notice before a pickup or drop off event. This allows us to secure everything needed to produce your event and menu. For all events, please let us know your intent to utilize any of our services as soon as possible so that we can add them to our calendars and assist with the overall event planning. We know that our customers sometimes don't find out about an event until the last minute.  We will do our best to accommodate all requests, though please note that we might need to make some substitutions or changes if certain items are not immediately available.
Our offices are open Monday through Friday, from 8am to 4:30pm.  We are also available to meet with you in your office or wherever you find most convenient.
If you feel comfortable placing your own order online, please feel free to do so by visiting https://harvesttablecateringredlands.catertrax.com and using our online system.  This option is especially useful for placing orders after hours or when your event may not require customization.
Venues and event spaces on campus are booked through the Event Services Office. They may be reached by calling 909.748.8116, M-F 8am-5pm or via email at events@redlands.edu. Our offices communicate regularly to ensure successful event experiences
How do I confirm my order?
After we have finalized all of the details for your event, you will receive an invoice via email or in person that will need to be signed and sent back to us. We ask that we have this signed invoice as soon as possible to hold your date. This invoice will include the exact times, location, estimated attendance and menu choices for your event. If an order is placed less than 7 days of notice before your staffed event, we will try our best to accommodate your needs. Charges for late orders may also apply.
When is the last day I can make changes to my event?
It is required that Harvest Table Catering be notified of the exact number of attendees of your event and any final changes to your invoice/event order no later than seven business (7) days prior to the function in order to prepare for your event by ordering food and scheduling staffing. If no guarantee is provided by that date, the most recent number provided by the contracting party will serve as the guarantee. That number will be considered the minimum that Harvest Table will charge for is not subject for reduction; even in the event less than the guaranteed number attend. You may request an increase in your guaranteed numbers within the seven (7) days but no decreases can be made. No changes can be made within three (3) days prior to your event.  Harvest Table will try our best to accommodate your needs and/or changes but please note that we cannot guarantee menu selection or any special requests. If you change an event after this deadline, some of the expenses already incurred cannot be absorbed and will have to be billed.
Are there cancellation fees?
All cancellations must take place at least thirty (30) business day(s) before your function. If you cancel an event after this deadline, some of the expenses already incurred cannot be absorbed and will have to be billed. We will notify you of these charges prior to billing.
90-60 days in advance 25% of estimated charges are due
59-30 days in advance 50% of estimated charges are due
29 days or less 100% of estimated charges are due
What are the service fees for my event?
A fifteen percent (15%) service charge will be included in the final billing on all food and beverage. The service charge covers labor, utilities, kitchen essentials, insurance, standard linen, china, buffet décor, and all necessary permits and other administrative expenses. Please note that the service charge is taxable based on California State regulation 1603(f) and is not a gratuity for the personnel. Gratuities are separate and is at the discretion of the customer.
How will staffing for event be provided?
We will provide the appropriate amount of uniformed bartenders, chefs and/or service attendants for you based on the style, service level, location and timing of your event.  If you would like additional bartenders, chefs and/or service attendants to serve at your event (i.e. butlering hors d'oeuvres, carving food items, passing drinks, etc.), we are more than happy to provide them at appropriate additional fees.
Harvest Table will have event staff available for the entire event to continue to provide service to the guests and to oversee the completion of the event. Every event is a maximum of six (6) hours of standard service. If an event exceeds the maximum pre-arranged time additional labor fees will apply.
Staffing rates are as follows:
Bartender
Chef Attendant
Service Attendant
What payment methods are accepted?
For university sponsored events please supply us with the appropriate university account code, as well as any required authorizations, to use for billing.
For non-university sponsored events you can settle your contract amount by using check, cash or via credit card. For these events, we require a deposit of 50% when you confirm your event, with any remaining amount due ten (10) days prior to your event. Any outstanding balances that may accrue the day of your event must be secured with a credit card and payable the same day.
What is done with the food at the end of my event?
Due to state and local health regulations, it is also the policy of Harvest Table that unused food portions from your event cannot be removed from the event site. No "To-Go" containers will be offered. Food and Beverages not consumed remain the property of Harvest Table.
Items purchased for pick up should be properly stored prior to the event and removed and disposed of by the host of the event.
No outside food & beverage, alcohol or otherwise, are allowed to be brought onto the premises by an outside source without special permission from the Harvest Table catering office.
What does a standard event package look like?
On the table: Harvest Table on-site event packages include china or compostables, flatware and glassware. Our inventory of china, flatware and glassware is limited and are assigned to events in order of booking date. If china service is not available on your event date, the charge for rental china will be charged to the customer.
Linen: Harvest Table covers all buffet tables, guest seating tables and (1) check-in table with our house linen at no additional charge when you book a full service event. We have a variety of colors in standard tablecloths and napkins. Upgraded or specialty linen are available upon request at an additional cost.
Centerpieces: Harvest Table provides a standard centerpiece on buffet tables for no additional cost (ex. Lanterns, Candles, Artificial greenery/flowers).  Live Specialty Flower centerpieces or decorations can be ordered from our florist at an additional cost. Please contact us for pricing
Can I have alcohol at my event?
Yes you can! All alcohol must be purchased from Harvest Table Catering at Redlands and requires a liquor license. State of California Alcohol Beverage Control requires a $100 non-refundable filing fee to obtain a license and that is charged to the customer. This requires thirty day (30) day notice.
There will be a $95 bar setup fee per bar. If bar sales exceed $300 this fee will be waived.
Harvest Table and California ABC requires that we request photo identification on any person who is of questionable age and to refuse alcohol service if the person is underage or proper identification cannot be furnished. We reserve the right to refuse service to any person who in the server's judgement, appears to be intoxicated.