Construction Begins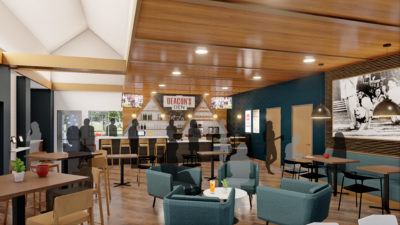 The plastic liner that now drapes itself from the Plaza ceiling is a clear indication that construction in the Irvine Commons has commenced. While the construction is sure to bring about some interruptions to everyone's dining habits, we are committed to working as hard as we can to make these inconveniences as small as possible. For example, as the first stage of construction begins the entire Plaza had to be closed. To accommodate for this we have added both features to a temporary home in the University Club as well as bringing other sources of food to campus. Things like temporary closures of locations are possible occurrences during construction, but whether it be with U-Club, Food Trucks, or Pop-Ups we are going to do our best to make sure that we can all continue to enjoy our dining experience while looking forward at what is to come.
Construction should be completed in early spring of 2020, and when it is we are pleased to announce we will be unveiling 2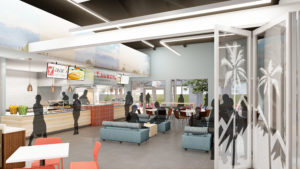 new locations to our guests: Launch Kitchen and The Den!  Each feature will bring something to the campus dining experience. At Launch Kitchen guests will have their choice of street foods and special meals prepared by guest chefs. Launch Kitchen will give guests a more diverse choice in where to eat and another source to use meal exchanges at.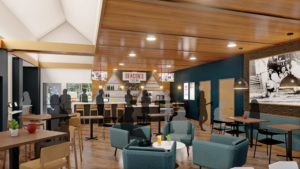 The Den will be a gastro pub will bring the authentic food of the Harvest Table culinary team to the table, accompanied by local beverages from Augies Coffee Roasters and Hanger 24. This new ideal hangout spot will be located where University Club once was, and is designed around providing an authentic college experience.
While we have the foundation of what each location is and what it will look like, it is important to us that our guests are involved in the process. We will be doing numerous pop-ups, menu samplings, and recipe developments within the community to make each location as personalized to Redlands as we possibly can. Don't forget to keep an eye out for when these will be taking place, and we will be looking forward to your feedback!
We here at Harvest Table are all very excited about what is to come and we hope that you are to! To stay in the loop about the progress of the construction don't forget to follow us on socials @htredlands and check back in on the website for further updates!